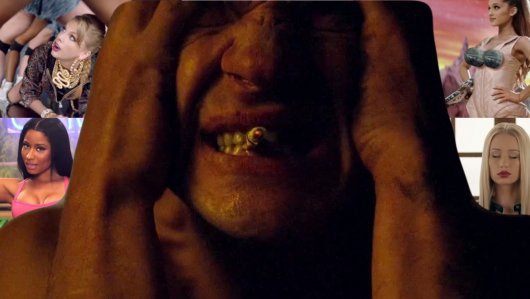 You would think August would be a slow month, with everyone (except you) on vacation or otherwise distracted. But, August was VMA time this year, so there's an onslaight of bigstar and big-budget and big POP videos, led by Taylor Swift and rounded out by nearly everyone else who graced MTV's annual showcase. That's not to say there's not headier fare to be had — Paolo Nutini "Iron Sky" is a challenging gem, and director Hiro Murai has two dark masterpieces that should have him far in the lead for your Director of the Year honors — but Summer is a fine time for brighter pleasures, and those are the videos that will get those VEVO Certifications and will be remembered by the masses.
Also:
There's two clearly NSFW videos, from the R-Rated The Weeknd "Often" and the X-Rated Movement "Ivory" — use common sense for when/where you watch them. And protection, if need be.
The Deech "Get Better Boss" video is not on YouTube, so you can't watch in the embedded playlist below. So, watch it separately. (Same will likely go for Movement, since that video will likely get removed by the time you read this).
Otherwise, here are the best videos from August 2014 as featured on Video Static...
BEST MUSIC VIDEOS OF AUGUST 2014