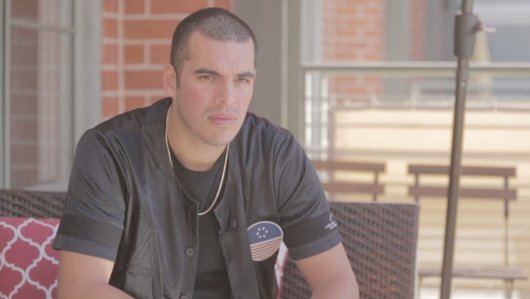 It may seem like director Emil Nava came out of nowhere in 2014 with a prodigious output of creative videos for the likes of Ed Sheeran and Calvin Harris. But, it's the culmination of many years as an AD and then a director in the UK — in addition to the fact that filmmaking is in his blood with his entire family in the film industry, including brother Jake Nava, who is also a music video director.
We recently caught up with Emil to chat about his transition to the US market, and what was inarguably a smashing year for him, by both creative and commercial standards with Nava nabbing an MTV VMA for Best Male Video via Ed Sheeran "Sing," while also getting two Brit Award Best Video nods for Ed Sheeran "Thinking Out Loud" and Calvin Harris "Summer".
On getting started in music videos:
I always really wanted to be in music. My whole family is involved in film. My dad was an actor, my mom was an actress. I've got four brothers, all directors. Another one of my brothers is an art director now.

I left school when I was sixteen and trained as a chef, because I always knew if I was going to be in this industry, it would be good to have a fall back. So I was a chef for a couple of years. Then, just before I turned eighteen I went and worked on my first video set. I just loved it. I came from the kitchen, so being a runner PA was was very easy because it wasn't scrubbing potatoes or peeling mussels and stuff like that. I never went to college or Uni, I always thought that doing it was the best way of learning it.

After being a PA, I became a video assist, so I was always at the monitor, always listening to the director's conversations, and the AD's and the camera men and I was constantly trying to learn. Every time I left the set I was like, "OK, that's how they did that."

Then, when I was about nineteen, I got lucky. A friend of mine was a director and I was like, "Oh, you should let me first AD for you." He co-directed something with this big video director in England called Phil Griffin, and we really got along, so I started being his AD. I did all the videos from the Amy Winehouse Rehab album with him.
Being an AD furthered things even more because I was in all the conversations. I was by the monitor. I was talking about the camera, the lens, the angle the framing, the schedule ... I got to work with so many different directors, so I was like, "Oh, wow, that's how he does it," or, "That's how she does it," or, "Oh, I would never do that."

The first video I directed with a crew was for my friend Jack. He was in a band called Naked and the Boys. He's now in the band The Kooks, but back then he had a band of his own.

I was nineteen and I knew everyone in the industry from being a PA and an AD so I phoned the lighting company and said, "Look, I'm just a young film maker, can you lend me some lights?" I remember I phoned The Mill and they gave me one of their assistants to grade it. I spoke to Final Cut, who gave me one of their assistants to edit it and we shot on 16m film. My friend Pat Meller, who shot for me, is shooting for me again, full circle.

It's funny because all those people who kind of helped then are now huge. So, it's definitely been fun watching that, you know? Watching all the assist- like me and the assistants then to then like what we're doing now. It's kind of cool to see that we all stayed in it.
On coming to America
Coming here was a really big step for me and something that I wasn't really ready for, I don't think. I guess they say it's like when you have a baby, you're never ready for it but you kind of just deal with it as it happens. It was kind of like that, I guess.

I've always been really big into pop and I love big videos. Pop music is great in England, and it's huge, but ultimately the biggest pop stars and the biggest acts and the biggest videos are out here. It was always very nerve-racking. I didn't want to be the guy that went to America and didn't quite make it and had to come back to England like, "Oh, I left you as a market and now I kind of want to come back." So, I was very nervous of that.

I had left the company, Pulse Films, that I was with. We made a friendly departure from each other and I came out here to do my last video with them which was for Taio Cruz. Luga Podesta at London Alley had been following me on Instagram and had always been liking my pictures and laughing at the stupid stuff I put up. So, basically we met via Instagram. I was out here and I got word that they wanted to meet me. I was literally ... I had a whole life back in England; there were no plans whatsoever to move here.

I met them and they were great and they were very hungry and it reminded me very much of when I first started. It's just about making good quality pop videos and making them fast and hard and for the budget. That approach that I still have even after ten years of doing it, of just wanting to do it well and do it quick and do it big.

So, we just really got along and I ended up signing with those guys. I was supposed to be here for a week, I ended up staying three months in a hotel in West Hollywood
On the differences between the UK and US markets
It's interesting. In England, they're more into the artsier side, and the cooler, more technical clever videos — there's more of a thing of making a video for a video, rather than here, where you make a video for an artist.

I would always try and create a good concept around an artist rather than maybe just do a good concept. I guess the way I look at it is: I use the artist as a leading actor or actress the way you would in a film, you know? In the way that a film is maybe surrounded around Leonardo DiCaprio, I would take a Jessie J and surround her with a concept.

In both markets, for me anyway, it's about taking the artist and surrounding them with a good concept and a world that they can fit into and elevate.
EMIL NAVA
select 2014 videography
note: This interview was edited and condensed for clarity and length.