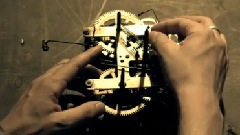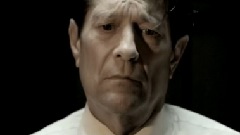 Too bad Alice In Chains already burned the title, "Get Born Again;" it's a perfect description of what they've managed to accomplish with this unlikely, yet artistically solid comeback. After disintegrating in the wake of original singer Layne Staley's drug addiction and subsequent death in 2002, guitarist Jerry Cantrell and the other members of Alice In Chains slowly, slowly, slowly began picking up the pieces in 2005 by beginning to tour with new singer William Duvall. Now with a pending release of Black Gives Way To Blue — the band's first album of new material in 14 years and first with Duvall on vocals — Alice In Chains ain't gonna deviate from the slow, yet steady progress that has brought back to life.
Lead single and video "A Looking In View" is about as non-commercial as possible: The song is seven minutes long and the video doesn't feature the band at all (and, there's nudity, which I guess makes it not safe for work, but only really if you work in a monastery). Director Stephen Schuster delivers a dark meditation on individuals who seem unable tot escape their mental obsessions: A young man can't break away from the mechanical tinkering that allowed him to while away time during an abusive childhood; a beautiful woman can't see herself as she really is; and an older man torn between religious dogma and lustful desires.
Stephen Schuster, director: "'A Looking In View' is an epic track that they wanted to release virally along with a music video/short film, which was perfect since the song clocks in at a bit over 7 minutes. After sitting down with the band, it became clear that the song dealt with the idea of people really struggling and dealing with intense psychological issues, finding themselves trapped within their own heads and often solely holding the key to their own freedom. That was the basic platform I stepped off from as I started to look at all the physical and mental issues that people deal with.

After all the writing and research, the video ended up being about the lives of these three individuals all locked inside rooms of their own design with a single wall separating each of them.  It was more the idea that though we are all individuals and we all deal with our own screwed-up issues and disorders, there are others around us that are also dealing with their own issues. The young male struggles with the obsessions of time, symmetry, arrangement, numbers, and the fear of causing harm to the person he loves. The female struggles with body dysmorphic disorder - the idea that she looks older or heavier than she is and the burdens that society instills within her. The older male is a religious zealot with struggles with the white washed lie of holiness and the lustful manifestations of his own sins. In the end, Jerry and William really wanted to show this as a redemptive song and how, as individuals, we can find freedom from within ourselves.

It was a great opportunity to work with Alice In Chains on their first video after their extended hiatus through Danny over at Capitol Records. It is always amazing to sit poolside with a band that have long established themselves not only as legends in the music industry, but also leaders in the shaping of music history. It was a monumental opportunity to collaborate with Alice In Chains, Velvet Hammer, and Virgin/Capitol Records."
--> watch "A Looking In View"
[[{"type":"media","view_mode":"media_large","fid":"99","attributes":{"class":"media-image","typeof":"foaf:Image","height":"270","width":"470","style":""}}]]
Alice In Chains "A Looking In View" (Virgin/Capitol)
Stephen Schuster, director | Bucks Boys/Danny Lockwood, producer | Jonathan Becker + Joshua Greenberg, executive producer | Bucks Boys, production co | Michael Lohmann, DP | Ryan McGuire, editor | Elvis Strange, production designer | Jake Blecha, art director