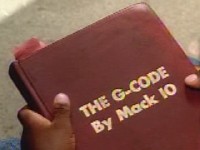 Mack 10 feat. Nate Dogg "Like This" Capitol
Benny Boom, director
Roger Urbina, producer
F.M. Rocks, production co
T. David, editor
Description: The jumping off point for this video is Mack 10's instruction book on how to live according to "The G-Code." As a group of kids flip through chapters on Respect, The Homies and The Hood Rats, the video cuts to vignettes that illustrate the lessons.