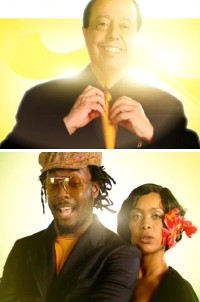 Sergio Mendes feat. Erykah Badu & Will.I.Am "That Heat"
(Starbucks HEAR/Concord)
Syndrome/Nabil Elderkin, director | Monica Blackburn, producer | Syndrome Studio, production co | Description: Black Eyed Peas frontman Will.I.Am and Erykah Badu star in this video off the new album Timeless, which features Tropicalia legend Sergio Mendes collaborating with The Peas, Badu and other star artists, including Stevie Wonder, John Legend and Justin Timberlake. This sharp looking, post heavy clip places the three musicians with some Brazilian dancers amongst swirling, colorful designs that look a bit like the setups used in the Peas video "Hey Mama." Mendes mostly stays at the piano, letting Badu and  Will.I.Am fill the screen with their personalities. -- watch "That Heat" at Yahoo!