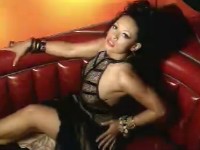 Tiffany Foxx feat. Snoop Dogg "Shake That" Doggystyle/Koch
Mike Taylor, director
Cat Restrepo, producer
Robot Films, production co
Robin Frank Management, rep
Description: This new video from the compilation Bigg Snoop Dogg presents Welcome To Tha Chuuch - Tha Album is a showcase for newcomer Tiffany Foxx. The rapper struts her stuff on a stage, writhes in a posh banquet booth and trades verses with her boss Snoop Dogg.