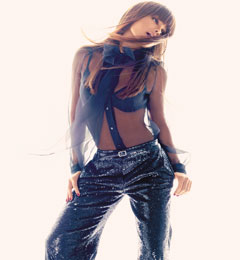 Curious what a Janet Jackson video directed by the the hip Partizan director Saam would look like? Wonder no more: The eagerly anticipated Janet Jackson comeback clip "Feedback" is set to debut on today's episode of BET's 106 & Park (starts at 6pm ET). Ain't got access to a TV? Yahoo will be premiering the video at 7:30 this evening here for those in the U.S., with a worldwide online bow set for tomorrow.
Saam won Best Director honors at the 2007 CADS Awards, which celebrates the best UK video creatives. The director is best know for his similarly award-winning Klaxons video "Golden Skans."
"Feedback" is the lead single/video off Janet's new album Discipline, her first for Island Def Jam.