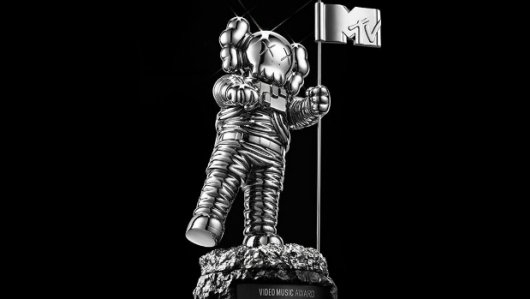 We've got all the winners, all the production credits, and lots of recap for the 2013 MTV VMAs!
Let it never be said that Justin Timberlake doesn't work hard for his laurels. The pop star — also apparently the leader of a country called Pop — won the Video Vanguard career award, won video of the year for "Mirrors" plus two technical categories split between that and "Suit And Tie," and delivered a 20+ minute hits-filled set that was capped off with an 'Nsync reunion.
The other stars of the show were Macklemore and Ryan Lewis, who won three Moon Men — Best Social Message for "Same Love," and Best Hip-Hop and Best Cinematography for "Can't Hold Us" — in addition to performing "Same Love" with singer Mary Lambert and guest Jennifer Hudson.
In terms of other performances: Loved seeing a silhouetted Kanye rip through his "Strange Fruit" update, the cavalcade of raunch and rap for Miley Cyrus and Robin Thicke, and Bruno Mars proving that he can hold the stage down in pretty much whatever musical style he chooses. (Side note: Did anyone else notice they kept calling Katy Perry's "Roar" her biggest hit ever? Maybe the metrics bear that out, but to me nothing is a hit until it seaps into the public's consciousness. Not sure it's there... yet. That said I'll give her props for managing to outspectacle KISS, who previously performed at the Brooklyn Bridge for the '96 VMAs.)
Notable absences: Jay Z, especially since it was his hometurf. And a Daft Punk performance — Now that you go back and revisit the Colbert segment, it becomes clear that all DP was ever gonna do was the robot walk, and let a snippet of an already in circulation "Lose Yourself To Dance" video play during the telecast.
Lots of upsets in the winners. I mean, the only award director Diane Martel received was for her Pink and Nate Ruess "Just Give Me A Reason" collaboration. But, so it goes with fans voting. My predictions for the Professional slate were tight.
And, if you like to keep track of when rock music becomes the equivalent of Jazz or Polka and the guitar goes the way of the ukulele: There was no full-on "rock" performance last night, nor did they telecast that category. Tick, tick, tick...
See below for full winners, including all professional catergories. Click the songtitles for full credits.
Congrats to all!
VIDEO OF THE YEAR:
Justin Timberlake "Mirrors" (Floria Sigismondi, dir.)
BEST MALE VIDEO
Bruno Mars "Locked Out of Heaven" (Cameron Duddy and Bruno Mars, dir.)
BEST FEMALE VIDEO
Taylor Swift "I Knew You Were Trouble" (Anthony Mandler, dir.)
BEST POP VIDEO
Selena Gomez "Come and Get It" (Anthony Mandler, dir.)
ARTIST TO WATCH
Austin Mahone "What About Love" (Colin Tilley, dir.)
BEST COLLABORATION
P!nk f/ Nate Ruess "Just Give Me a Reason" (Diane Martel, dir.)
BEST VIDEO WITH A SOCIAL MESSAGE
Macklemore & Ryan Lewis "Same Love" (Ryan Lewis, Jon Augustavo, dir.)
BEST ROCK VIDEO
30 Seconds to Mars, "Up In The Air" (Bartholomew Cubbins, dir.)
BEST HIP HOP VIDEO
Macklemore & Ryan Lewis f/ Ray Dalton, "Can't Hold Us" (Ryan Lewis, Jason Koenig, Jon Augustavo, dir.)
BEST ART DIRECTION
Janelle Monáe f/ Erykah Badu, "Q.U.E.E.N" (Veronica Logsdon, art director)
BEST CHOREOGRAPHY
Bruno Mars "Treasure" (Bruno Mars, choreographer)
BEST CINEMATOGRAPHY
Macklemore & Ryan Lewis f/ Ray Dalton, "Can't Hold Us" (Jason Koenig, Ryan Lewis and Mago Lin, DP)
BEST DIRECTION
Justin Timberlake f/ Jay-Z "Suit & Tie" (David Fincher, dir.)
BEST EDITING
Justin Timberlake "Mirrors" (Jarret Fijal, editor)
BEST VISUAL EFFECTS
Capital Cities "Safe and Sound" (Grady Hall, Jonathan Wu and Derek Johnson, fx)
BEST SONG OF THE SUMMER
One Direction "Best Song Ever"