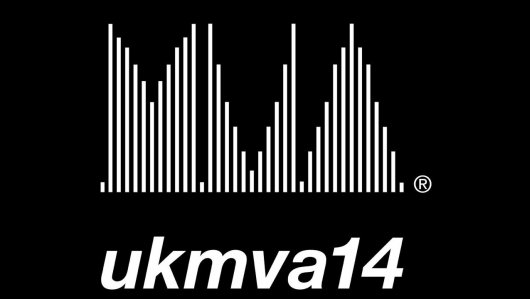 It will never be said that the UK Music Video Awards doesn't have enought categories. Videos are celebrated in over 30 categories, broken down for UK, International and budget, while also recognizing live shoots, interactive work and commercials.
British acts Alt-J, Metronomy, Paolo Nutini, Jungle, FKA Twigs, Coldplay, Disclosure, London Grammar, Jon Hopkins, Peace and Paloma Faith all scored multiple nominations, with Metronomy leading them all with six nods.
Read on for the full slate... and if you're in or around London, check the awards at Southbank Centre in London on Monday November 10th...
Best Pop Video – UK in association with Rushes
Best Dance Video – UK
Julio Bashmore - Peppermint
Jungle "Busy Earning"
Best Rock/Indie Video – UK
Peace "Money"
Throne - Tharsis Sleeps
Best Alternative Video – UK in association with Smoke & Mirrors
Best Urban Video – UK
Hawk House - Chill Pill
Last Night In Paris - Pure
Scrufizzer - Kick It
Best Pop Video – International
Jamaica - Two On Two
Kiesza - Hideaway
Stromae - Tous Les Mêmes
Best Dance Video – International
Best Rock/Indie Video – International
Best Alternative Video – International
Best Urban Video – International
Best Pop Video – Budget
Midnight Juggernauts - Systematic
New Beat Fund - Get Up
Rosemary - I Know
The Correspondents - Fear and Delight
Best Dance Video – Budget
Basement Jaxx - Mermaid of Salinas
Festival Girlfriend - Infatuation
Friend Within - The Renegade
Halogen - So
Max Cooper - Supine
TCTS - These Heights
Best Rock/Indie Video – Budget
Eugene McGuiness - Godiva
Kid Wise - Hope
Lonely The Brave - Victory Line
PUP - Reservoir
Small Black - Breathless
Tiny Ruins - Carriages
Best Alternative Video – Budget
Bored Nothing - Let Down
FKA Twigs - Papi Pacify
FKA Twigs - Tw-ache
Goose - Your Ways
Jenny Wilson - The Future
Joan As Police Woman - Witness
Best Urban Video – Budget
Bonnie Banane - Champs-Elysees
Die Antwoord - Pitbull Terrier
Knytro - My Motive (Movement)
Moors - Asphyxiated
Pearls Negras - Make It Last
Run The Jewels - A Christmas F*cking Nightmare
Best Art Direction & Design in a Video in association with Creative Commission
Best Styling in a Video
Best Choreography in a Video
FKA Twigs - Tw-ache
FKA Twigs - Wet Wipez
Peace - Money
Best Cinematography in a Video in association with Panalux
Best Colour Grade in a Video
Best Animation in a Video
Coldplay - Always In My Head
Nils Frahm - Re
Throne - Tharsis Sleeps
Best Editing in a Video
Kid Wise - Hope
Moody Good - Musicbx
Peace - Money
Best Visual Effects in a Video
Best Live Coverage
Black Rebel Motorcycle Club - Live In Paris
Coldplay - Ghost Stories Sky Arts
Rudimental - Live at Brixton Academy
Rolling Stones - Sweet Summer Sun
Sam Smith ft Howard Lawrence - Make It To Me Stripped Live (Vevo Lift UK)
Savages - Live at the Forum
Best Music Ad – TV or Online
Bob Dylan - Like A Rolling Stone
Bombay Bicycle Club - So Long, See You Tomorrow
Disclosure - Settle
Last Night In Paris – Pure
London Grammar – If I Wait
Sam Smith / Google Play – Live At The Roundhouse
Best Interactive Video
Bob Dylan - Like A Rolling Stone
Damon Albarn - Heavy Seas of Love
Death Koolaid - Second Rule
Etienne de Crecy - Hashtag My Ass
ManCub - Waiting In Line 3D
Pharrell - 24 Hours of Happy
Vevo Must See Award
Bombay Bicycle Club - Luna
Best Producer in association with Island Studios
Best New Director in association with Electric Theatre Collective
Best Director in association with Locomotion
Best Commissioner in association with IMD Fastrax
Best Video Artist in association with Box Television