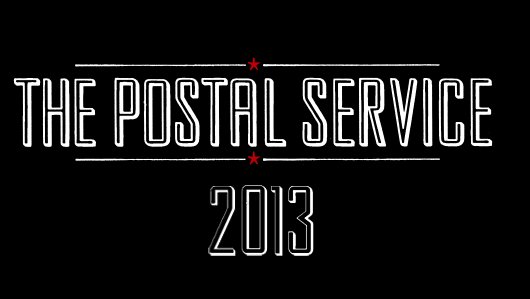 You know a band still has resonance when all it takes is putting a basic splash page with the year "2013" on it to send the internet into a tizzy.
Which is ironic, since the whole idea of using the postal service to send audio files back and forth — which is how Ben Gibbard and Jimmy Tamborello collaborated on their 2003 album — has been rendered totally archaic by the Web.
Billboard reports that a reissue of that album — one of only two Sub Pop discs to go Platinum (the other is Nirvana Bleach) — and a couple live dates (hint, Coachella) are in the works.
Hopefully the reissue will include new uploads of the band's videos, which all look pretty janky, but let's dig in nonetheless:
"Such Great Heights" (Josh & Xander, dir.) — The sci-fi world of CD manufacturing, something which may soon be as obsolete as mailing music around the country. (Sorry for the chyron throughout, but it's preferable to the interlaced hell of the official upload). Also notable for the Apple/Intel v. Postal Service hubub, but bringing that up wouldn't be in the spirit of reunions.
"The District Sleeps Alone Tonight" (Cobra Kai, dir.) — More archaic technology on-display here as a woman sleeps next to various projections. Eerie, simple, beautiful. Also, the official YouTube is also interlaced and lo-fi, so let's use this pristine MTV.com link.
"We Will Become Silhouettes" (Jared Hess, dir.) — This is probably my favorite, even if it's the most dated thanks to the Napoleon Dynamite vibe by that cult movie's director, Jared Hess.
"Against All Odds" — This came a bit after the fact as a tie-in with the Wicker Park movie, so its encumbered by an abunance of film footage. Also, it's a Phil Collins cover — the original of which also supported a movie nobody really remembers.