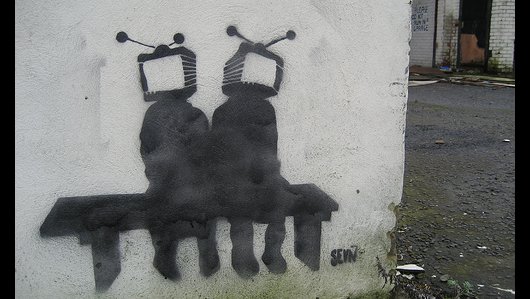 Stumbled upon this fantastic 1989 NY Times article by Jon Pareles about MTV as what saved the music business from a post-disco slump. It's mostly glowing, before it reaches a conclusion about the medium's endless voracity for content and shock that sounds a bit like the Internet-fueled Pop/Disco 2.0 explosion:
"By now, most of the novelty has disappeared from music video. Even at MTV, executives have been complaining about the cliched images of smoke, leather and writhing women. Trends race through the medium; a striking clip is followed by dozens of imitators faster than a viewer can say ''derivative.'' But while the initial novelty has worn off, for millions of fans music video has become the public face of popular music. And the form still has a secret weapon: brevity. A so-so video only lasts four or five minutes - and the one that follows might just be a knockout."
Read the whole thing. It's awesome.
IDEAS & TRENDS; After Music Videos, All The World Has Become A Screen [NY Times]