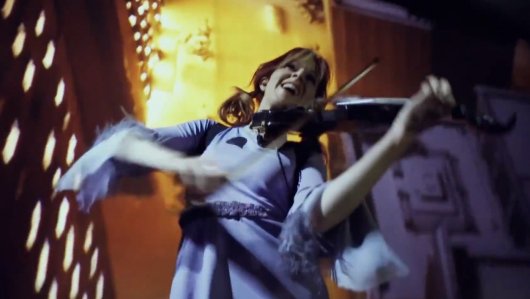 As with all modern award shows, except for The Oscars, the winners at the first YouTube Music Awards seem like the least important element. That said, there were winners — deserving ones, especially since they were solely voted on by fans and not silly experts.
The biggest story of the show was the nontraditional set-up: The barriers between audience and the stage were blurry, and the performances were shot like "live music videos," complete with choreographed cuts, dialogue, scene changes and more.
It was incredibly ambitious, with seven distinct "live music videos," each as elaborate as a one-take music video, within the span of 90 minutes. When it worked, it was a beautiful thing — Lindsay Stirling's transcendent "Crystallize" is a great example — and you could argue that the freewheeling "let's make it work" ethos had enough excitement to overcome anything that feel short of what was envisioned.
But, if show creative directors Spike Jonze, Chris Milk and team seemed focused on deconstructing the typical live award show, YouTube seemed to gunning for more old-fashioned goals: An attempt to build an "everyone at once" live event, and a way to steer music video related traffic directly to YouTube without any VEVO involvement... That live audience
Read More for the YouTube Music Award Winners and Performances:
Video of the Year:
Innovation of the Year
YouTube Breakthrough​
YouTube Phenomenon
​Response of The Year
Artist of the Year​​
And the performances: