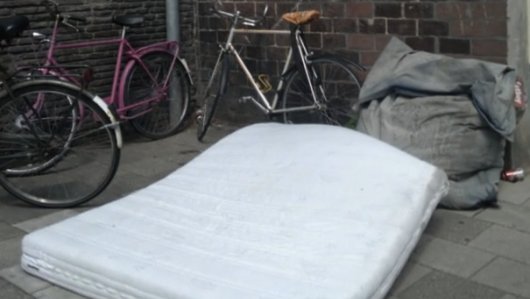 Prolific Music Video Producer, Michelle Larkin, is making her directorial debut with a Short Film she wrote, entitled Lay It On Me.
The project has less than 30 hours remaining in it's successful crowd-funding campaign on Kickstarter. https://www.kickstarter.com/projects/1392504796/lay-it-on-me
If this mattress could talk it might say: "People fell in love on me, cried on me, fought on me, slept on me, cheated on me, dreamt, drank, ate..... they all needed me." This short film is an allegory for the deteriorating nature of the human condition and at the same time, a multigenerational commentary on the ubiquity of human experience. The mattress is the protagonist, if you will. The mattress is a symbol embodying each story and its secrets, passions, sorrows and stains that life imprints on our souls. The short anthropomorphizes the mattress. I plan to shoot a large portion of the film from the mattress' POV. It's a character that responds to its surroundings. It has a visual point of view but also a philosophical perspective. It travels through the generations crossing an array of indelible characters that span from the 1970's to present day. The mattress is the only constant throughout the film, silently narrating the pursuit for the meaning of life, the search for gratification, the sense of wonder, the times of isolation, the cycle of life, and the inevitability of death. These stories take on a unique perspective being told primarily from the mattresses vantage point. The mattress makes a statement about the world. We all want a place to lay our heads at night. Is there anything more comforting than getting into your own bed?
Michelle Larkin is an American producer of music videos and commercials as well as an aspiring writer/director. She is best known for her music videos for Nicki Minaj's "Superbass"; and Drake's "HYFR"; that won her MTV music video awards as well as BET awards. When Michelle isn't producing videos for rap superstars she is most likely working on her first passion - writing. She is working on several other creative projects including her short film "Lay It On Me", which will be her directorial debut.
Established in 2009, Michelle My Belle is a fully integrated production company, specializing in commercials, music videos, photo shoots, films and live concerts. Over the last five years Michelle My Belle has labored to become a leader in the music video world working with artist such as The Wanted, Nicki Minaj, Lil Wayne, Drake, Rick Ross, DJ Khalid, Mary J Blige, Far East Movement, Snoop Dog, The Sciript, Lights Over Paris, James Blunt, Modest Mouse, Korn, and Marilyn Manson to name a few. Michelle My Belle Has produced videos for film and television director Sannaa Hammri, Dayo Harewood, Nathan Cox, Justin Francis amongst others. Michelle My Belle has strategically started making its mark in the film world, producing 2 short films and a live concert for Prince's tour in the spring of 2013. To date, Michelle My Belle has produced over $10 million dollars in content and holds under its belt, 2 MTV Video Awards and 2 BET Video of the Year Awards.