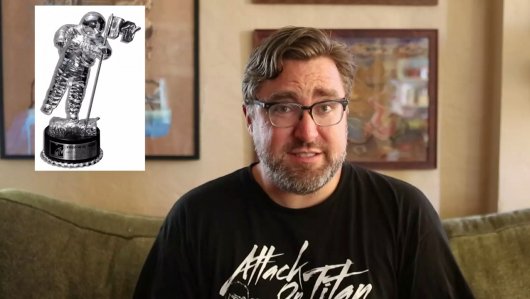 Is it ironic that Josh Forbes' second most successful video is one lamenting the fact that his most successful one didn't pay enough money to attend the MTV VMA awards?
There are grievances a'plenty for music video directors these days — a lack of budgets, a lack of respect, a lack of video revenue sharing, a lack of any of the benefits or protections that the DGA provides for every other stripe of director out there, and so on and so forth — but these are the things people are willing to deal with when pursuing the music video dream, and a big part of that dream still includes the chance to add a Moon Man to your mantle.
So when Josh Forbes directs a video for a song that becomes a pop smash and gets nominated for a VMA, dammit, he's gonna go that awards show. At which point he learns that the VMAs have apparently long been kinda like a Bon Jovi concert: Unless your last name is Bongiovi, you're likely gonna have to pay for your ticket. (I hear Jon Bon runs a tight ship.) And, unless you're a music video director who traffics in expensive pop, or supplements the video work with a steady stream of Pancake commercials, then your disposable income is probably on the smaller side.
There's a happy end to this story here, which is that Josh Forbes put up a GoFundMe asking his friends and colleagues to help pay for his tickets and BAM, he got an outpouring of money, and the thing became a news story, spurred on by a Daily Beast story. He even got his face drawn on by Perez Hilton, which is not typically part of the music video dream, but still something to print, laminate and hang on your wall.
I'm of course being a bit flippant about all this, mainly because I know Josh fairly well and I think it's clear from his GoFundMe that he's not coming from a place of anger. But, also because the VMAs have evolved much like most pop culture has evolved: It's bigger, quicker, flashier and emphasizes celebrity and pop music and mass appeal over a lot of other things. Viewers want to see the stars and the performances and the spectacle, and probably don't even know one director from another, let alone want to see them accept anything on-stage. Ask Joseph Kahn and he'll tell you. And if you think directors are the only ones who pine for the old VMAs, imagine how most rock bands feel as they've been marginalized off nearly all mainstream stages.
Silver linings for everyone involved? You bet.
There's now a rolling, if not roiling, discussion about directors receiving credit, and compensation. This is something you'll be hearing more and more about, especially as the digital economy grows and the public pays more attention to where their entertainment originates from (much to the Fat Jew's chagrin)
If anything the hubbub proves yet again that the MTV VMAs is still the biggest night for music videos. For instance, when I told my mom I won an MVPA award, she said she had no idea I was into military vehicle preservation. Whereas if I said I won a VMA, she'd ask if I met Miley. (Speaking of which, is it too late for a 2015 MVPA awards to dive deep on all the behind the camera folks who help keep the pop machine moving?)
An old and lame joke is that the best way to stay sober during the VMAs is to have a drinking game were you do a shot everytime an artist thanks a director. But maybe, this will be the year where all the pop stars take three seconds to thank the folks who often create the visuals that defined them and helped pave the way for their own massive success.