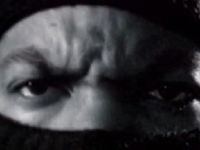 There's a swastika painted on the garage, alongside the words "porch monkey," in the suburban neighborhood where a black man and a white woman make their home. Ice Cube pulls up. A pistol on his lap. Ski-Mask on his head. He kicks the door down and kidnaps the guy, violently breaking up that interracial relationship at gunpoint. The anger directed at his fellow black man, not at the close-minded community. 
Director F. Gary Gray once succinctly described that opening scene: "We kidnapped a guy and threw him in a trunk for dating a white girl," adding, "I've never been afraid to visually express things that aren't commercial."
No shit.
Ice Cube's "True To The Game" is still as incendiary today as it was when released in 1992. Shot in South Central, a few months after the L.A. riots, Cube rages at anyone who undermines or abandons African American culture. It's a video that could lead into a robust discussion of race, which I'll leave to people much more eloquent that me.
What might be craziest is that this video came way before the Internet, so for people to see it — and it's a pretty well known video — it had to hit the airwaves, the same video channels and media outlets that also aren't spared in this rap classic. 
Maybe you're watching this video for the first time and you only know present-day Ice Cube with the Hollywood career and the action flicks and family comedies. Well, welcome to the game. And Ice Cube has mastered it.