It's 2010 and people still clearly wish they all could be "California Girls", or "Gurls" as in the title of Katy Perry's summertime smash "California Gurl". With the track breaking records at Top 40 radio and selling as briskly as cold drinks on a 100° summer day, it's only right we take another look at the music video, which is also note perfect for the season...
Video Static will be going In Depth on the "California Gurls" the rest of the week with behind-the-scenes pictures, factoids from the shoots and lots of quotage from Motion Theory director Mathew Cullen.
--> watch "California Gurls"
Part 2: Constructing A Candy Land
In keeping with artist and video collaborator Will Cotton's technique of making artwork out of candy and other treats, Motion Theory ensured that much of the candy seen in the video is actual candy. Also, by making many of the elements practical, it allowed for Katy and Snoop to actually be part of this world.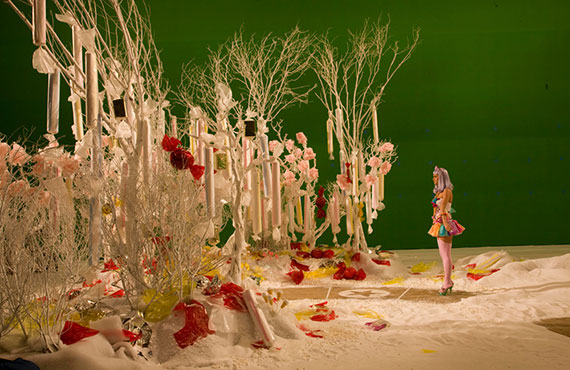 Mathew Cullen, director: "The Candy Cane forest is nearly all practical. The Candy Canes were made from eucalyptus trees that we buffed down and painted with car paint to get the right look. The Hollywood Walk Of Fame Gingerbread Path is practical. Sugar beach is practical. The Jello Mold, the Gingerbread house, the entire game board are both practical. We actually built a lot of these sets, which is why there's a fair amount of interaction between Katy Perry and the candy."

"A good 70% of the video is actual candy on some level, be it shot in-camera, or in miniature and composited in post. The Cotton Candy clouds, for example, were made of dyed cotton that we enhanced in post with photos of actual cotton candy."