Music video director Melina knew this was not a typical Snoop Dogg song from the moment she heard it – and knew she had to get something different on screen. "Right from the beginning, Snoop was down for anything," says Melina, "and I knew it was going to be a lot of fun."
The visual touchstones were clips for Shalimar and Prince, but with a twist of humor. Melina notes, "The song is not too serious, so the video had to match. When we got to the set and Snoop was really going for it, it was amazing. He had all the dance moves and he really delivered a great performance. Snoop actually wanted to go further with a crazy Jheri Curl."
The dancers were shown clips of old Vanity 6 videos as references, and some mistakes and mis-steps were included in the finished video. The clip was shot on 16mm as well as a "vintage" video camera from the early '80s, that distorted some colors, but helped distill the look. As Melina worked with DP Omer Ganai, they purposefully zoomed and moved the camera at unexpected times – trying to mess each other up and catch the "seat of your pants" feel of early videos.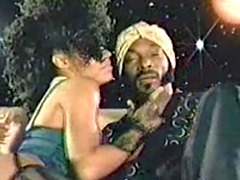 After the shoot was done there was even more fun to be had: The finished, on-lined clip was put through a regular VCR. "All along," Melina says, "I wanted to run the footage through a VCR, but it turns out that nobody had one. We went to a shady pawn shop in Santa Monica and bought a used VCR and ran the video through that three separate times to get just the right degraded, old school look." Melina also gave a shout-out to the guys at Baked Goods who created the classic video effects and the look of a VHS tape starting and stopping that bookends the video.
"That job was so much fun,' says Melina, "I wish I could do more videos like that."
--> watch "Sensual Seduction" via YouTube
(come on, it was shot on video and on-lined through a VCR 3x. YouTube compression just adds to the charm!)
Snoop Dogg "Sensual Seduction" (Geffen)
Melina, director | Steven Johnson, producer | Factory Features, production co | Omer Ganai, DP | Jarrett Fijal, editor | Baked Goods, vfx (note: Melina remains signed with Black Dog Films)