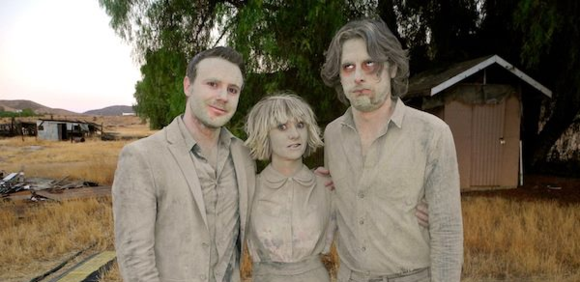 Greg Jardin, director:
"My last few videos were more focused around a high concept, so I thought this would be a good opportunity to make something conceptually simple, but aesthetically bold - something where we really just amplified an already intense performance.

I wanted the video to essentially be just like the song and band itself – aggressive but also ethereal. That notion, and the band's recurring visual theme of the wilderness, inspired the idea of the band performing in some sort of elemental battle between man and nature; and thus, the idea for the dust storm was conceived.

The original idea was to have the band performing out in an abandoned diner or hotel in the middle of the desert, but after I'd pitched the idea, I found out that their previous video for Cholla, which hadn't yet been released at the time, was set in the desert. Thus, we started exploring different ideas, and my producer Jason Baum ultimately located 'the spooky house,'  our location in Agua Dulce, CA. I went there to check it out, and discovered it was a few miles away from Vasquez Rock Park, where we shot the video's intro (which, I found out later was also the location for planet Vulcan in the J.J. Abrams Star Trek movie).

Visually, my cinematographer David Myrick and I were both excited about the idea of shooting through foreground elements as much as possible – composing a lot of the shots using a frame within a frame, and having as much atmosphere as possible. I wanted to stay away from an uber-cutty, snap-zoomy, super-shaky type of deal, and let the band's performance be the basis for the energy driving the video, where the editing sort of speeds up as the song progresses.

Most people ask about the dust – my production designer Eric Archer, and his team, brought in these industrial-sized fans and dumped huge bags of "movie" dirt in front of them – dirt that was as safe as possible for the band to get blown around in. That said, each take took maybe 20 minutes to reset from, as we had to let the rooms air out, and make sure the camera wasn't (too) dirty. Everyone on the crew was wearing dust masks and goggles, but the band (members) were troopers and stuck it out. No one was hurt, I think the worst thing about it was the dirt getting in their mouths and in-between their teeth. The high circulation of dirt in the air did, however, ruin a few of the fans' motors and render them useless in the middle of the day.

When we were doing the fitting, I asked the band if they were OK with having practical dirt blown on them. Rhydian, the bassist, replied 'anything that makes a better looking shot.' My kind of guy."
--> watch "The Ladder Is Ours"
The Joy Formidable "The Ladder Is Ours" (Atlantic)
Greg Jardin, director | Jason Baum, producer | @radical/media, production co | David Myrick, DP | Eric Archer, production designer | Jessica and Kelly, stylists |  Sage Maitri, make-up | Greg Jardin, Matt Zell, Gio Negron, VFX | Jennifer Heath, exec. producer | David Saslow, commissioner