By
Doug Stern
on November 2, 2012 @ 8:06pm PDT | Comments (0)
It sure seems like soundtrack videos are making a comeback and Director Matt Stawski delivers a masterful integration of the film - Wreck-It Ralph - with the artist and video. The video doesn't just cut to existing film footage, instead the clip creates a practical, production designed world that looks like an 8-bit arcade game straight out of the world of the movie.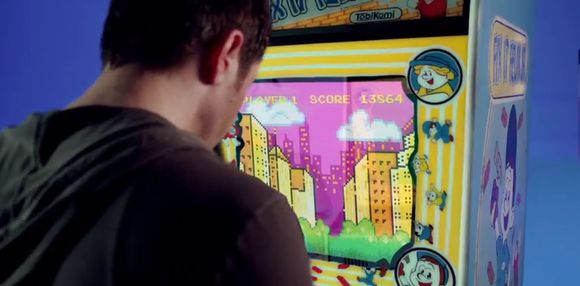 Matt Stawski, director: "It was a nostalgic project, just as the movie is.  I was a Commodore 64 floppy disk kid going through grade school, as well as classic Nintendo.  The way the film crosses game genres and times is absolutely gorgeous and hilarious, and it was fun tapping into that old school 8-Bit style for this video.  90% of the video was done practically with sets, strings, stands, rollers and sticks.  The whole point is that you can see the set workers moving the parts and trying to hide behind flats and such.

I'm a total pre-production director, as well as a comic nerd, so a lot of times when I'm prepping for a job, I go beyond the storyboards, wardrobe references, set references, photography references and such; I like to do animatics and sequences to give our clients and production team.David Courtemarche and his trusty art director Justin Mulcary, I was able to animate their early set sketches and mock some of the camera moves and looks.  

It was interesting because the Wreck-It Ralph team — especially film editor Tim Mertens and music supervisor Tom MacDougall —  was heavily involved.  Specifically, we had a final editing session in the Disney Animation building.  They were extremely helpful, very collaborative and had tons of great advice.  I'm young so I'm all ears when it comes to hearing out guys that have been working with Disney since the Pocahontas days."  

Owl City
"When Will I See You Again" (Walt Disney)
Matt Stawski, director | Paul Bock, producer | Artists & Derelicts, production co | Missy Galanida & David Naylor, exec producers  | Tom Banks, DP | David Courtemarche, production design | Angela Solouki, stylist | Lindsay Blaufarb & Craig Hollamon, choreography  
Doug Stern writes music video treatments and still has the high score on Joust down at the corner market.