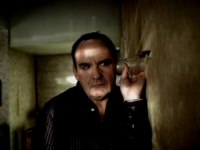 Alter Bridge "Broken Wings"  Wind-Up
Dean Karr, director
The Mine, production company
Description: CSI actor Paul Guilfoyle plays a killer whose past catches up to him in a haunted hotel. As soon as he pulls into a literal ghost town, he begins to be tormented by the souls of what we assume to be his victims. The creepy story is mixed with highly stylized, yet gritty performance by Alter Bridge.