"I feel at home whenever the unknown surrounds me" — Bjork
Approximately nine months in the making, Bjork and directing team Encyclopdia Pictura have delivered something arguably better and certainly more ambitious than any other video you've seen in quite some time.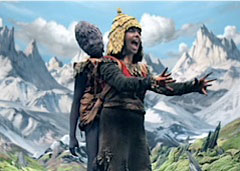 Bjork has a track record of working with some of the best directors in the music video world — Michel Gondry, Spike Jonze, Stephane Sednaoui and Chris Cunningham — and being artistically fearless. Encyclopedia Pictura is a worthy addition to that list and this amazing video is a statement of purpose. It's a continuation of her searching for the new and the unknown, but it's also such a pure distillation of her essence that there's a strong shot at this being ultimately viewed as the essential Bjork music video. And yes, I realize that Bjork's damn impressive videography makes that a bold statement.
The video's story strikes me as a parable about Bjork's quest for creative artistry. She leads and alternately relies upon a herd of water buffalo to traverse through a twisty river. She wrestles and tangles with a shadowy clone and comes face to face with a massive aquatic creature that eventually leads her to the brink and beyond. It's a good match to the lyrics and everything that Bjork's career has embodied.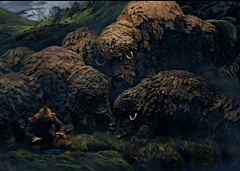 The level of detail in every frame is pretty staggering, as Encyclopedia Pictura and the rest of the creative team masterfully balance a handmade vibe with cutting edge thrills. If some of the scenes seem three-dimensional, that's because the video also exists in a 3D version (like, with glasses and shit). So, it's kind of a shame that your first taste is via a 2D version that's compressed into a bandwith-friendly flash encoding. [UPDATED: higher resolution Quicktime link now available] That problem should be rectified soon, however. There have been a few big-screen showings of the 3D version on both coasts, which is something I hope continues. And, Bjork's label One Little Indian is already offering free 3D glasses, hinting at a DVD offering and possibly other TV opportunities. So, fear not. Consider this web launch a mere preview of what's to come...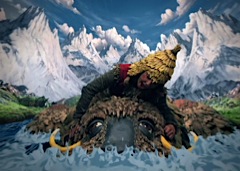 In some ways, the most interesting thing about this video will be if it can have the kind of impact it should. Can a video get everyone talking? Can there be a big event video ever again, or will we never get back to Thriller? Or, is this more of a an art event than a music video? It was made outside of the framework of traditional music videos — nine months of production is at least, oh, eight months longer than the average production timeframe — and there's also the fact the album is nearly a year old and this, albeit typically solid Bjork song is clearly not going to be a hit radio single. It is a music video, of course, but in the same sense that Bjork's "paramour" Matthew Barney is a movie director. Yes, he technically directs films, but they're true art films — works meant for museums that do away with almost all the conventions you would expect in a movie.
Whatever the case, "Wanderlust" is exhilarating. It has the potential to influence and inspire a whole new generation to discover what's possible when you set out without any boundaries. Here's hoping it gets seen by the masses. May it replace the Michael McDonald DVD at your local TV dealer.
--> watch "Wanderlust" in Quicktime or at Yahoo plus a Making Of at Myspace PLUS a NY Times Making Of special 

Bjork "Wanderlust" (One Little Indian)
Encyclopedia Pictura, director | Mark De Pace, producer | Ghost Robot, production co | UVPHACTORY, post production | click for full credits!