Warning: This is long and rambling and not really about The Fray.
If you are of a certain age (thirtysomething) and  background (middle class, suburban), you probably know every single frame of the classic "band on the road" videos for Motley Crue "Home Sweet Home" and Bon Jovi "Wanted Dead Or Alive." Both videos are good ones to cite when it comes time to debate whether a band is best served by an artistic, highly conceptual clip or a more basic, performance-driven. The former works very well for bands that derive a portion of their cache by being associated with the avant garde — think Radiohead, Bjork or most indie rock bands — but it also runs the risk of overwhelming an act hasn't yet developed or communicated an identity. For instance, will anyone remember Justice and the song "D.A.N.C.E." as anything more than The T-Shirt video? And if all they remember is the video, who does that benefit most? The director or the band? Consider the paradox of Spike Jonze and Wax if you want an answer.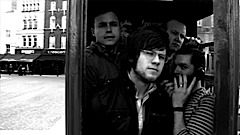 The "band on the road" video has been a staple for rock bands for a long time and for good reason: It reinforces the archetype of the "rock star as conquering warrior." Say what you will about Motley Jovi, but their personae were formed by these sorts of videos which made them look big and important and popular and powerful. You could even go back to D.A. Pennebaker's classic Bob Dylan film Don't Look Back —  essentially a feature-length take on the BOTR concept — which played a huge role in ensuring that the public would be privy to Dylan's personality and power.

This all leads to the new video "All At Once" for The Fray, which is of the BOTR variety. It's a good one. While  The Fray are best know for the pretty perfect video that Mark Pellington directed for "How To Save A Life," we've never seen them as anything other than a sensitive, perhaps even dour collective. "All At Once" changes that. It  exposes previously unseen and more light-hearted aspects of the band's personality and makes them seem larger than life. And, it doesn't waste any time or energy in trying to appeal to somebody outside of their target audience. There's a good chance that a potential fan will come away from the video thinking: 1) They seem like fun guys to hang with; 2) Wow, they're playing to some big fucking crowds that seem to totally adore them; and 3) Holy shit, everything looks amazing and important in slo-mo.  --> watch "All At Once" below
[[{"type":"media","view_mode":"media_large","fid":"94","attributes":{"class":"media-image","typeof":"foaf:Image","height":"350","width":"425","style":""}}]]
The Fray "All At Once" (Epic)
Rod Blackhurst, director/producer/editor | Filament Productions, production co | Kelly Magelky, DP (color footage) | Rod Blackhurst, DP (b&w footage)