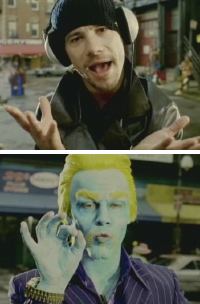 Jamiroquai "Feels Just Like It Should" Epic
Joseph Kahn, director
Mary Ann Tanedo, producer
HSI, production co
Chris Probst, DP
David Blackburn, editor
Description: Jamiroqaui set the video world upside down with the amazing and award-winning "Virtual Insanity." In many ways, this video for "Feels Just like It Should" is bigger, better and definitely way weirder. Jamiroquai singer Jay Kay plays all of the main characters in an outlandish and very trippy street scene. The basic story is about a nebbishy dweeb who decides to lose his virginity. He visits a pimp named The Candy Man, who looks like some strange combination of The Joker and Jim Carrey's character from The Mask. Although The Candy Man eventually delivers a prostitute, he spends most of the video playing tricks on Jay Kay's mind. There are lots of special effects in the video, all of which are executed to perfection by effects shop X1FX, and several action-adventure sequences that are on-par with anything you've seen on the big screen lately. "Feels Just like It Should" is chock full of too many twists to describe here, so please visit the Jamrioquai site and watch the video all its glory.