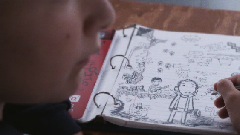 The great "Heartless" war escalates. You see, it goes like this:
Now, if these guys were gangsta, a cap woulda been popped in somebody's ass long ago. Alas, they're not. In fact, Allen and The Fray are apparently even collaborating. Don't sensitive soft-rockers know how to feud properly? Come on.
Anyway, The Fray should get a burst of attention of their "Heartless" version thanks to this newly released video. Director Hiro Murai presents the song from the viewpoint of a lovelorn schoolboy, whose doodles become animated with both band performance and a tale of a heart being broken. --> watch "Heartless"
[[{"type":"media","view_mode":"media_large","fid":"99","attributes":{"class":"media-image","typeof":"foaf:Image","height":"264","width":"469","style":""}}]]
The Fray "Heartless" (Epic)
Hiro Murai, director | Ross Girard, producer | Partizan, production co | Clay Jeter + Will Basanta, DP | Isaac Hagy, editor | Emilio Ramirez, art director | Titmouse, animation | Cal Aurand, comissioner