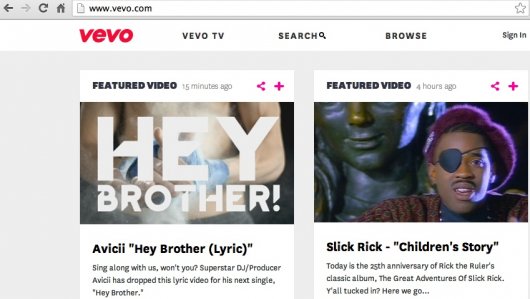 It's VEVO 3.0 with the site launching a total revamp in terms of its interface and backend.
The homepage does away with the poster image style, in favor of something a bit more like a blog or Facebook page with lots of content featured as you scroll down... The player itself is different, with director credits displayed by default in the lower left chyron — mouse over that area and it'll appear — something I'm sure most production folks probably love.
Also new is a trifurcation of VEVO TV. Now instead of a one feed to fit all tastes, there are now three channels: Hits, Flow (R&B/Rap) and Nashville. That's right: No rock, since perhaps research shows that most rock fans are still on America Online (ouch).
Techcrunch has more on the under-the-hood imporovements — it's now built on Node.js instead of a Microsoft .NET stack — but let's all be honest: You all just care that director credits are now on-screen by default, right?