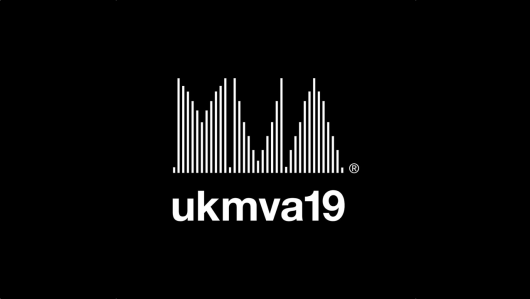 The UK Music Video Awards 2019 is now open for entries today, accepting music videos and music films from the past year. Entry deadline is August 2, 2019, and the event is scheduled to take place October 23 at London's Roundhouse.
There are over 30 categories, with opportunities for UK and International submissions.
Visit ukmva.com for submission information and more details. And read on for the full Press Release
UK MUSIC VIDEO AWARDS 2019 OPENS FOR ENTRIES
WITH A CALL TO ACTION – VIVE LA MVA!
The UK Music Video Awards 2019 opens for entries today (June 5th) giving filmmakers two months to submit their best music videos and music films of the past year. The leading global awards programme for music video creativity, the UKMVAs will culminate in a celebration of world-beating visual work at London's Roundhouse on Wednesday 23rd October 2019.
The UKMVAs has been bestowing honours on the best work and greatest achievements in music videos since 2008. In that time, it has grown into the most important annual event in the calendar for the world of music video production. The global reach of the competition last year saw entries from more than 30 territories, with filmmaking talent from around the world nominated alongside both new and established British talent.
At last year's UKMVAs, music videos for an international fleet of artists as diverse as Childish Gambino, Florence + the Machine, The Blaze, Young Fathers, Sevdaliza and Rosalía were among the big winners on the night, while British commissioner, producer and director's rep, Carrie Sutton was honoured with the Outstanding Achievement award. Barcelona-based directing collective, CANADA, won the Best Director award, and young British talents Zhang + Knight collected the Best New Director trophy, while Somesuch picked up the coveted UKMVAs' Best Production Company award.
Kicking off with a visual campaign designed by British artist Jimmy Turrell, working with the UKMVAs longstanding creative directors at StudioThomson, the Awards celebrates the visual craft and ingenuity inspired by protest with a clarion call – VIVE LA MVA!
This year sees the introduction of a new category to the UKMVAs: Best Special Video Project. Designed to recognise music film projects which extend beyond a single video, the category has been introduced in response to the growing number of video EPs, video albums and other extended works which go beyond the boundary of primary music videos.
The UKMVAs launches with a number of longterm supporters back on board as partners: leading camera and lighting company Panalux will sponsor the highly prized Best Cinematography award, while Procam, Europe's largest digital cinematography hire facility, returns to sponsor the Best Live Video award. Innovative finishing house CHEAT once again supports the hotly-contested Best Colour Grading category. Award-winning London edit house, Cut+Run continue their sponsorship of the Best Editing in a Video award, and cultural icon, i-D, lends its support once again to the Best Styling category. The Mill backs the brand new Best Special Video Project category, and its team are assisting with bringing the UKMVAs visual campaign to life through animation, while audio studio, Jungle, are lending their support with audio production on the idents. Post production house, LEAP, another long-term partner, will be interpreting the visuals for the big screens on the night of the Awards.
The UK Music Video Awards editorial director, David Knight, says: "I think it's panning out to be something of a classic year for music videos. There are so many interesting things going on in every type of music and at all levels of the industry in terms of videos and visuals. We have a new generation of visually-literate music artists teaming with talented filmmakers and that's resulting in consistently thrilling work. So this year's UK Music Video Awards promises to be one of the most exciting we've ever had."
The UK Music Video Awards 2019 is now open and accepting entries in over 30 separate categories, including genre-led awards, as well as specific technical and craft awards, and awards for individual producers, directors and commissioners, and for overall production companies. Submissions should be made via the dedicated website at www.ukmva.com until the entry deadline at midnight, August 2nd 2019 (BST).
The award categories are:
Best Pop Video – UK
Best Rock Video – UK
Best Dance Video – UK
Best Alternative Video – UK
Best Urban Video – UK
Best Pop Video – International
Best Rock Video – International
Best Dance Video – International
Best Alternative Video – International
Best Urban Video – International
Best Pop Video – Newcomer
Best Rock Video – Newcomer
Best Dance Video – Newcomer
Best Alternative Video – Newcomer
Best Urban Video – Newcomer
Best Special Video Project in association with The Mill
Best Live Video in association with Procam
Best Live Concert
Best Production Design in a Video
Best Styling in a Video in association with i-D
Best Choreography in a Video
Best Cinematography in a Video in association with Panalux
Best Colour Grading in a Video in association with CHEAT
Best Editing in a Video in association with Cut+Run
Best Visual Effects in a Video
Best Animation in a Video
Best Commissioner
Best Producer in association with WPA
Best Artist
Best Production Company
Best New Director
Best Director