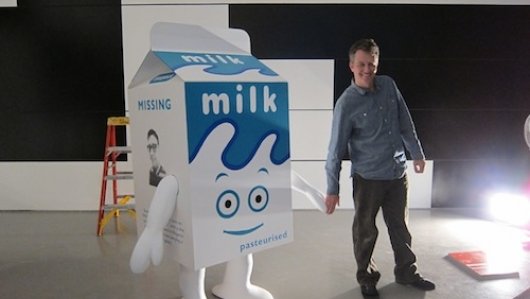 I'm not one to get all historical, but since this interview is about a museum show dedicated to the art and history of music video, there's no reason not to indulge in nostalgia.
I first met Jonathan Wells when he was programming a San Francisco music video show dedicated to electronic music and creative videos — predating MTV's foray into similar forays with the short-lived show Amp. And I remember getting the first issue of his magazine venture, Res — which was dedicated to the kind of DIY digital filmmaking that we all take for granted now, but was totally cutting edge back in 1997. That spawned Resfest, a film festival dedicated to similar creative pursuits, and other ventures, many of which involved music videos on one level or another.
So, it feels like a good omen that Wells and his co-curator Meg Grey Wells have circled back to place a big bet on music videos with museum show Spectacle: The Music Video, now running at NYC's Museum Of The Moving Image through June 16.
Jonathan and I got to chatting about the show and more, covering the challenges of a broad field like music video which runs the gamut from high-art to pop trash and sometimes both at the same time.
Video Static: You've been involved in both music video and museum circles for a long time, so it's not a surprise to see the two collide with Spectacle. How did it come about?
Jonathan Wells: I've been passionate about music videos for many years going back to when I founded a regional video show in the mid-1980s. I've always thought that exceptional music videos should be appreciated as works of art.
My partner Meg and I are particularly interested in immersive art installations and we thought it would be exciting to approach a music video music video exhibition from this direction.
We pitched the idea of an exhibition to the director of the Contemporary Arts Center in Cincinnati. She loved the idea.
VS: The immersive aspects was something that struck me, since we're living in an on-demand age where basically every video you want to see is a few clicks away. The exhibition is the total opposite of that... It's a tightly curated collection, some of which is presented on video screens that you have to physically visit. But where the exhibition really takes off is the more unique presentations of videos. The peepholes for the "banned videos" is a good example... Which immersive environment was the trickiest to set up?
JW: I would say the interactive works were tricky in that we wanted to present them slightly differently than they were originally designed. For example with Arcade Fire's Neon Bible (the first interactive video), we worked with the artist Vincent Morisset to create an experience where you were not aware of the computer at all. He designed a pedestal with an embedded Magic Trackpad.
Exploring these unique presentations was more fun than tricky though. For instance we present 8-bit music videos in arcade shells in Art House section. We contacted all of the directors to supply original artwork assets for the arcade shells. Shynola was particularly excited about this and insistent that they design their own shell.
SG: One of the other challenges, I presume, was making sure the exhibit didn't become a traveling Hard Rock Cafe (minus the bad food)...
JW: Yes when pursuing artifacts we declined opportunities for autographed guitars or other similar memorabilia.
SG: I also assume some artists and estates are very tricky to get into a group show. Michael Jackson and Madonna, for instance...
JW: Let's just say that this is not a request that labels or management are used to receiving. It was much more difficult before we had proof of concept of the first show and the resulting press.
SG: How did you balance the expectations of people who view music videos as a nostalgia trip, and those who are looking for the artistic leading edge...
JW: While historic significance came into play, first and foremost we chose videos for their artistic value.
There are some obvious videos like A-ha "Take on Me" that no doubt serve as a "nostalgia trip" but are exceptional and important works in the art of the music video.
People who come to the exhibition expecting a historical retrospective of the music video will likely be disappointed. We intentionally avoided a chronological organization of the exhibition.
VS: Is there anything in particular you're excited about a casual music fan seeing in the exhibit? Something that they're likely discovering?
I believe most people experience music videos today on their computer. Working with our partners we've been able to outfit the galleries with with great sound - Sonos speaker arrays for the large projections and Sol Republic headphones for the monitors. Just as the best music video is a combo of a great song and great visuals, ideally you experience the video on a great screen with killer audio. That is something that visitors will be able to do at the museum.
I've heard feedback from visitors who were excited to see Björk's Wanderlust in full color stereoscopic 3D.
VS: I was going to say that Wanderlust was by far the highlight for me
JW: There have been museum exhibitions that have looked at the music video before. But they have all been monitors on pedestals or on the wall. White walls. Sterile.
We worked with Alexei Tylevich and his team at Logan on the exhibition design for Spectacle. We wanted each of the nine thematic environments in the exhibition to be distinct.
Beyond the curation of the videos included, the exhibition design and the artifacts are what really set this show apart from any that have come before.
For example, Body Language is devoted to videos with amazing choreography. Music videos are collaboration between artist and director. But it extends beyond that to the DP, editor, art direction and stylists. And there are videos where the choreographer is a primary collaborator alongside artist and director. That is what this section is all about. Hype worked with a talented choreographer named Hi-Hat on his Missy video "The Rain"
The videos range from the something like classic Bjork's It's Oh So Quiet to high production Busta Rhymes Put Your Hands Where My Eyes Could See to Spike Jonze's Fatboy Slim video for Praise You. Body movements come in different flavors.
SG: Were there any items you were close on that slipped through? Holy Grail items?
I don't know if I should reveal this info, but obviously Michael Jackson's Thriller jacket would be a Holy Grail item. There are a couple - one is clean, but the beaten up one was bought by an entrepreneur in Texas for $1.8M.
VS: How much for just a glove?
JW: Ha. There are a few artifacts that we are tracking that might show up at future venues for the exhibition. After the debut in Cincinnati last March the exhibition toured to the Museum of Image and Sound in Sao Paulo. We are planning additional touring venues in the U.S. and internationally.
VS: So, here's the big question. You and I have been in this world long enough to have heard about the death and then seen the return of music videos so many times...But you've been someone who's been at the front of the curve in terms of electronic music and then with digital filmmaking and here you are back at music videos, basically doubling down on them. So, are music videos back?
JW: Actually for me videos never left. I started my first music video show when I was in high school. When I started RESFEST, we had a music video program from the beginning, this was long before other film festival started music video sidebars. I've always thought that music videos were an exciting place to identify future filmmaking talent and for filmmakers to experiment with ideas that may crop up elsewhere down the line. The medium in which you experience music videos has changed and will no doubt change again. But as you can see in the exhibition the paring of music and film goes way back to the 1920's with the first musical shorts and it is not going away.
Spectacle hints at some of those future directions with the interactive music video installations as well as how fans and filmmakers are exploring new forms within Remix.
VS: And, if I can interject, it's not a coincidence that YouTube has become the primary way so many people experience music… People like the combination of visuals and music. It's natural.
JW: Yes, I think it is fascinating that YouTube is even used to listen to music that has no visuals, just a static image of album artwork. Björk who has been a music video pioneer has been exploring the idea of apps for each song. We are in the early days of this. It will be exciting to see how "music video" evolves. But, to answer your original question. I think that music videos are a topic of conversation again like they were in music videos heyday on MTV. The pervasiveness of YouTube enabled music video to blossom again.
Spectacle runs through June 16 at NYC's Museum Of The Moving Image, before it takes off for additional worldwide stops. Keep checking in at videostatic.com for related event announcements, including a special conversation tonight, Friday April 26, with esteemed video choreographers Rich And Tone...