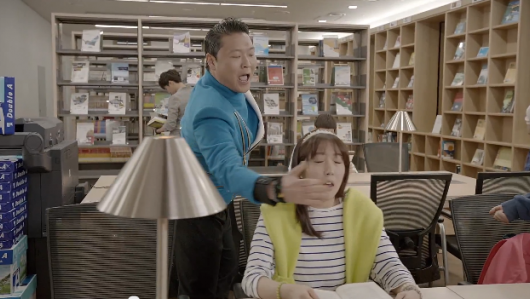 Thought that VEVOs Top 10 Most Watched Music Videos of 2013 would be the same as YouTube? Guess again.
Our old friend PSY is still #1. The Korean pop star had the most watched video with "Gentleman," duplicated the same feat he had in 2012 with "Gangnam Style." Also appearing here, but not on VEVO's list, are Selena Gomez and Avicii.
What accounts for the differences? PSY "Gentleman" is easy, since it's not on VEVO. The others are likely due to how YouTube isn't involved in VEVO's distribution chain for mobile and connected devices like AppleTV, Xbox and Roku.
YouTube's 2013 Most Watched Videos:
1. PSY "Gentleman" PSY, dir.
2. Miley Cyrus "Wrecking Ball" Terry Richardson, dir.
3. Miley Cyrus "We Can't Stop" Diane Martel, dir.
4. Katy Perry "Roar" Mark Kudsi & Grady Hall, dir.
5. P!nk f/Nate Ruess "Just Give Me A Reason" Diane Martel, dir.
6. Robin Thicke f/T.I., Pharrell "Blurred Lines" Diane Martel, dir.
7. Rihanna f/Mikky Ekko "Stay" Sophie Muller, dir.
8. Naughty Boy f/ Sam Smith "La La La" Ian Pons Jewell, dir.
9. Selena Gomez "Come And Get It" Anthony Mandler, dir.
10. Avicii "Wake Me Up" Mark Seliger & CB Miller, dir.