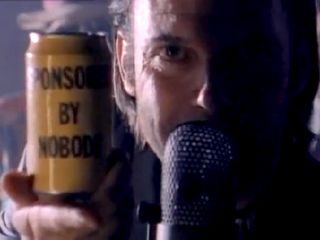 How's this for irony: A music video originally banned by MTV's legal department for directly mocking many of their corprate sponsors, wound up winning the VMA for Best Video of the Year.
The controversy was understandable: If the world can be broken down between such commercial choices as Coke or Pepsi, Budweiser or Miller, and Michael Jackson or Whitney Houston, well, Neil Young and director Julien Temple directly mock them all here, rejecting both options as corporate crap.
It's not a surprising statement from either creative: Neil Young is one of the only recording artists I can think of that was sued for not sounding like himself, and Julien Temple was the videographer of punk, directing the Sex Pistols movie The Great Rock N Roll Swindle, before directing vids for The Kinks, Tom Petty, Rolling Stones, David Bowie and many, many others (including, ironically, Whitney Houston).
Although "This Notes For You" and Neil's anti-sponsorship message resonated in the Days of Grunge, it eventually got ditched in the current realities of the music world, where every big budget video seems to have product placements and practically every pop artist is shilling for one brand or another. I mean, "Pocket Like It's Hot?" 
Also ironic? When you watch the video on YouTube, you'll likely be subjected to a pre-roll ad. Sorry, Neil.