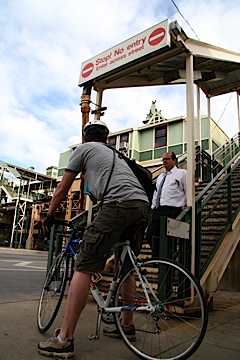 Multiple angles aren't just for porn DVDs, now that The Breeders have stolen this underused technique back for this new video. It's a Choose Your Own Adventure motif  with some plot lines more stasis than others — the shot of the band hanging out in front of a brick wall is clever, but not very compelling — but everything works together and intertwines in its own way. It's kind of like the movie Timecode — with a better soundtrack and a less famous cast — but instead of all four storylines playing out on the screen at once, a Flash player lets you swap between each viewpoint at your whimsy.
Steve Delahoyde, co-director: The ad/design firm I work for, Coudal Partners, was involved for a few years doing a lot of the design work for the Pixies reunion tour and we recorded all of their live albums from that period for pixiesdiscs.com and theshowlive.com.  That's how we got to know Kim Deal and her other band, The Breeders.

We'd written a few dozen treatments and finally came up with this bike messenger cat and mouse chase idea, but couldn't decide whose perspective to shoot it from. I was out driving one day and it dawned on me that we could try doing it from every perspective, so we just went with it. We had to shoot way more than we normally would, but we somehow managed to get it mostly done in one day — the bike tire did explode near the end of the day, so we did have to do some pickups later. The band had pretty much just told us to go ahead and do whatever we wanted, so we didn't tell them about this multiple perspective thing when we went to shoot their cameo (and/or "their video").  We wanted to keep it a surprise, so we just stuck them against the wall while I pretended to talk to the crew and tell the actors what to do. Meanwhile, the camera was rolling, shooting as much as we could of them standing there so we'd have some buffer on the front and back ends to make sure we could make the shots of the messenger and other guy running by line up right in the edit.
--> watch "Walk It Off"
[[{"type":"media","view_mode":"media_large","fid":"99","attributes":{"class":"media-image","typeof":"foaf:Image","height":"340","width":"480","style":""}}]]
The Breeders "Walk It Off" (4AD)
Steve Delahoyde & Bryan Bedell, director | Ryan Taylor, DP | Steve Delahoyde, editor | AlphaZeta, Steven Schmidt, Steve Gadlin, flash developers