Dugan O'Neal, director: "Who doesn't love awkward family photos? It is a cultural pastime that has had long lasting power. It's something that almost everybody can relate to and understand. For the last several years, I have had a folder of awkward family photos on my computer that I continuously add to. I always knew somewhere in the midst of all that awkwardness was a really fun video.
To be perfectly honest, I have pretty much been accidentally preparing my entire life to make this video. I would even go so far as to say it was my destiny. I've just been waiting for the right band. I'm glad I waited because Matt & Kim definitely were the perfect band; they had great ideas and totally got it from the beginning. They were lots of fun to work with and down to go the distance with each character they played.
 The inception of this idea actually began in my youth. My parents own a photography business and I grew up assisting my dad on portrait sessions, weddings, commercial shoots and, of course, family photos. Because my parents had a photography business, it was imperative that we send out our own family photo every year to help generate business. Yes, they were awkward.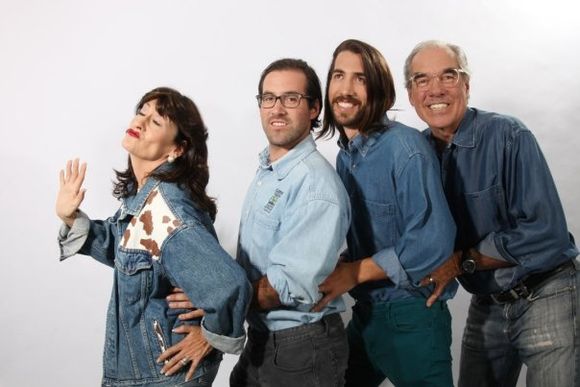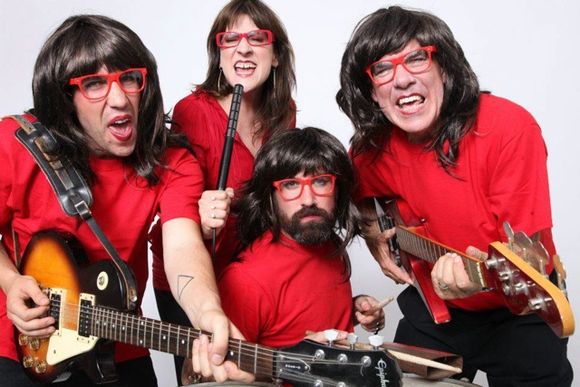 Later, I was browsing through the awkward family photo website and thinking to myself, 'Who is the photographer taking all these weird pictures? What kind of direction is he/she giving to these families?' That is when I integrated the photographer character into the treatment. I thought it would be such a funny character in the video, a guy who thinks he is a hot shot cutting-edge photographer, but is really just taking the most weird and uncomfortable photos ever.  After Matt (of Matt and Kim) read the treatment and realized the potential weirdness of it, he called me. In the treatment I suggested a Will Arnett type actor or even a celebrity cameo toplay the photographer, but after seeing the short film I did with my family, Dinner, he insisted that I play the photographer. I act a lot  in my own short films, but this is definitely the first time I have appeared in one of the music videos I've directed. I would never write myself into a music video but maybe I will from now on. Just kidding. Kind of.
Then I wanted to push the idea even further where this photographer has a spiritual and psychedelic experience while taking photos. His world begins to alter and he reaches a new level of spiritual awkwardness. The photographer has a revelation as he sees that underneath the seemingly boring sweater, is an epic tiger shirt.  Plus, I felt like it would it was anobvious yet unexpected direction to go in for the breakdown of the song.
One recurring theme that is found a lot in family photos is a pregnant woman. In general, I think pregnant women are beautiful, but thesephotos make me feel really uncomfortable. I can't put my finger on it, but its just…awkward. Another theme that you see is whole families with their shirts off.  So, of course, I asked Matt and Kim and the family if they were cool with taking their shirts off, and they were. Things got really awkward (for real) when the kid starting breastfeeding. I guess that's how it happens; it's like magic, the kind of magic that makes you feel really uncomfortable but also good inside. This was definitely one of the more fun/weirdest shoots yet that I have been a part of. Thanks for reading and hope you enjoy watching the video."
Matt & Kim "Let's Go" (FADER)
Dugan O'Neal, director/editor | Sydney Buchan, producer | Doomsday Ent, production co | Tim Ives, DP | BEMO, vfx | Danielle Hinde, exec. producer