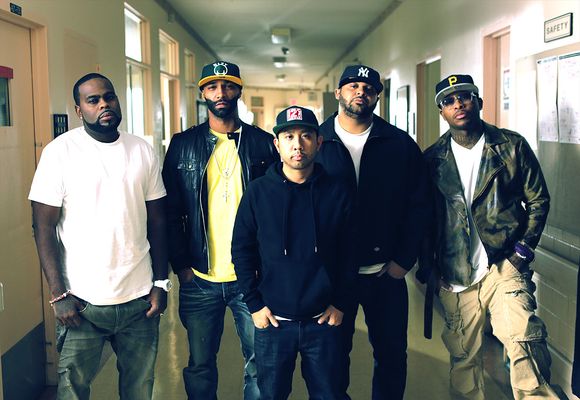 Rik Cordero, director:
"Slaughterhouse crafted an extremely personal and powerful track with "Goodbye," so I wanted to create a series of cinematic vignettes that emphasized their lyrics while also providing a glimpse of vulnerability that is rarely seen in this genre.

The narrative scenes were great because the guys have such unique storytelling abilities it was easy to complement it through the actors. Joe's scene in the operating room was probably the most unsettling — and since that was one of the first scenes we shot, it kind of set the tone for the entire day. We knew that we were re-enacting some of the worst days of these dudes' lives. It became more than just a gig, it was a personal responsibility to be as honest as possible.

The presence of the Dark Angel was inspired by Gabriel, an archangel who serves as a messenger from God. When I first heard the chorus, I thought it sounded like the thoughts of a compassionate Gabriel. The look of the costume was inspired by Victoria Frances, a Spanish artist and author but with a gothic twist. There was a lot of initial concern by the label as to whether or not we should show a Dark Angel but after several rounds of visual approvals I was able to convince them. It was important for me to show that the souls of their loved ones were being watched over and that their memories will live through others.

In a very eerie and poignant coincidence, my Grandfather passed away the day after the video was launched. It's a moment that I'll always remember: life imitating art imitating life. Goodbye Grandpa Joe..."
Slaughterhouse "Goodbye" (Shady/Interscope)
Rik Cordero, director | Ryan Biazon, producer | Three/21 Media, production co | Clayton Combe, DP