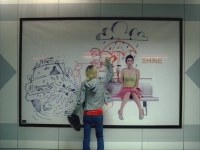 Daniel Powter "Bad Day"  Warner Bros.
Marc Webb, director
Michael Schlenker, producer
DNA, production company
Max Goldman, DP
Fernando Villena, editor
Description: Two bored and lonely twenty-somethings lead strangely synchronized lives. After they individually start vandalizing a dopey subway advertisement with comical drawings, they realize that there just might be someone out there who can make them happy. Then, just as foreshadowed in their drawings, they meet and instantly fall in love while waiting for a taxi on a rainy night . Daniel Powter narrates the tale as he performs this pop/rock tune at a piano and around a city.