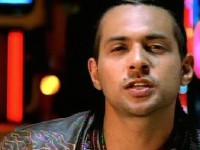 Sean Paul "We Be Burnin" VP/Atlantic
Jessy Terrero, director
Josh Goldstein, producer
Lotus Filmworks, production co
Robin Frank Management, rep
Description: Boasting gorgeous desert locales and an ultra widescreen aspect ratio, this is about as cinematic a reggae video you've ever seen. Sean Paul plays on his older hit "Gimme The Light" with this first joint off his new album, The Trinity. The video's plot concerns a pair of beautiful women who are picked up after their car overheats in the desert. Sean Paul performs among the sand dunes and at a nighttime party that is illuminated by neon crested trucks. In the end, it's unclear whether the women were seeing a mirage, or if they really were taken to a Sean Paul party spot.