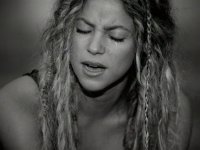 Shakira "No" Epic
Jaume De Laiguana, director
Sergi Ciuro & Ester Udaeta, producers
Laiguana & Piramide, production cos
Alejandro Oset, DP
Anna Oriol, editor
Description: Although this b&w video for "No" is technically a beauty piece, it shows Shakira without the makeup, lighting and post-effects that most divas need to radiate on screen. The camera picks up every pore of Shakira's face, and even her tears, as she performs this Spanish language ballad. Besides just looking beautiful for the camera, Shakira also sews together a set of wings for herself that she puts to use as the song crescendos to a big finish.