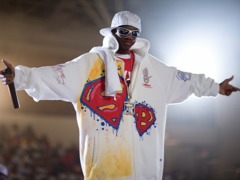 One word comes to mind when watching the viralicious video for Soulja Boy's block-rocking #1 hit "Crank That," and the word is zeitgeist. Yeah, that's right. Zeitgeist. This clip/artist/track/director combo captures the Zeitgeist of the moment. This clip/artist/track/director combo does not merely represent the music scene in 2007, it absolutely reinforces and further defines the current hot trend of young, poppy, Southern-influenced urban music in 2007:
Goofy dance? – check
Nursery rhyme rap? -  check
Artist under age 20? - check
The track is so infectious you can hear on Disney radio as well as pulsing from the grimiest hooptie in the hood. The clip is directed by street rap's omnipresent visualist Dale Resteghini.  In the same way that a fun and semi-disposable pop song like the Go-Gos "Our Lips Are Sealed" was a perfect crystallization of the music scene in the early '80s, Soulja Boy shows us where it's at today. If only they had been "cranking that" in the fountain. (review by Doug Stern) --> watch "Crank That (Soulja Boy)"
Soulja Boy "Crank That (Soulja Boy)" (Collipark/Interscope)
Dale "Rage" Resteghini, director | Kim Resteghini, producer | Raging Nation, production co | Yell Productions, rep | Zeus, DP | Brian Kushner @ Purple Cow Post, editor