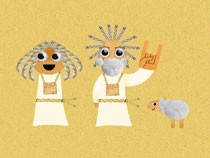 As Passover winds to a close, I hope all of you caught VH1 Classic's Matzo & Metal. Besides retelling the story of the Jews exodus from Pharaoh's land in its own unique fashion with Popsicle stick characters, the special also featured a Seder with a variety of Jewish metal icons. Among the attendees were Anthrax's Scott Ian, Twisted Sister's J.J. French and Mountain's Leslie West. The host was Twisted Sister frontman Dee Snider  (who is only half-Jewish, for the record) and the show was sponsored by the kosher winery Manischewitz.
Those who missed the show can catch repeats this Sunday at 7am and 7pm on VH1 Classic.
The Popsicle stick animations were created by Hornet diector Aaron Stewart.