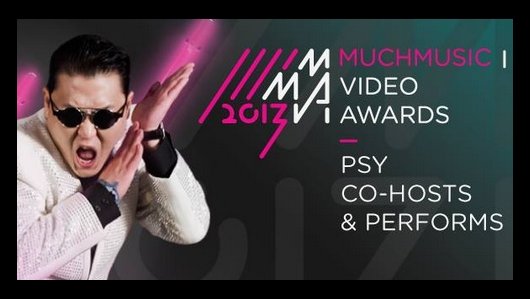 Canadian music video channel MuchMusic has announced the nominees for their annual MuchMusic Awards. Marianas Trench leads all nominees with six, followed closely by Drake with five and Classified with four.
Full nominees for all categories are below.
The Awards will be broadcast live Sunday, June 16 on MuchMusic in Canada and via Fuse in the U.S. PSY is co-hosting, so be warned.
And if you're new to these awards keep in mind that only "Canadian" videos are eligible, except for the International categories.
Video Of The Year
Director Of The Year
MuchFACT Video Of The Year [video funded with MuchFACT production grant]
Post-Production Of The Year
Billy Talent "Surprise Surprise" (Michael Maxxis, dir.)
Colin Munroe f/ Pusha T "The Fight Of My Life" (Philip Sportel, dir.)
deadmau5 f/ Chris James "The Veldt" (Manroop Takhar; Joel Zimmerman, dir.)
The Sheepdogs "Feeling Good" (Matt Barnes, dir.)
Young Empires "White Doves" (Miles Jay, dir.)
Dance Video Of The Year
Anjulie "You And I" (Ray Wong, dir.)
deadmau5 f/ Chris James "The Veldt" (Manroop Takhar; Joel Zimmerman, dir.)
Dragonette "Live In This City" (Wendy Morgan, dir.)
Grimes "Genesis" (Claire Boucher, dir.)
Mia Martina "HeartBreaker" (Russell Majik, dir.)
Hip Hop Video Of The Year
Classified f/ David Myles "Inner Ninja" (RT! , dir.)
Drake "Started From The Bottom" (Director X, dir.)
k-os "Nyce 2 Know Ya" (Kevin Brereton, dir.)
Madchild f/ Matt Brevner & Dutch Robinson "Jitters" (David McDonald, dir.)
SonReal & Rich Kidd "Hometown" (Liam Mitchell, dir.)
Pop Video Of The Year
Down With Webster "One In A Million" (Aaron A., dir.)
Hedley "Kiss You Inside Out" (Lisa Mann, dir.)
Kardinal Offishall f/ Karl Wolf "Turn It Up" (Chris Strikes, dir.)
Marianas Trench "Desperate Measures" (Kyle Davison, dir.)
Shawn Desman "Too Young To Care" (Marc Andre Debruyne; RT!, dir.)
Rock/Alternative Video Of The Year
Billy Talent "Surprise Surprise" (Michael Maxxis, dir.)
Matt Mays "Take It On Faith" (Michael Maxxis, dir.)
Metric "Youth Without Youth" (Justin Broadbent, dir.)
Serena Ryder "Stompa" (Natalie Rae Robison, dir.)
The Sheepdogs "Feeling Good" (Matt Barnes, dir.)
International Video Of The Year – Artist
Demi Lovato "Heart Attack" (Chris Applebaum, dir.)
Ed Sheeran "Give Me Love" (Emil Nava, dir.)
Justin Timberlake "Mirrors" (Floria Sigismondi, dir.)
Nicki Minaj "Va Va Voom" (Hype Williams, dir.)
P!NK "Try" (Floria Sigismondi, dir.)
Phillip Phillips "Home" (Joseph Toman, dir.)
PSY" Gangnam Style " (Bo Young Lee, dir.)
Rihanna "Diamonds" (Anthony Mandler, dir.)
Taylor Swift "We Are Never Ever Getting Back Together" (Declan Whitebloom, dir.)
will.i.am f/ Britney Spears "Scream & Shout" (Ben Mor, dir.)
International Video Of The Year – Group
fun. "Some Nights" (Anthony Mandler, dir.)
Imagine Dragons "Radioactive" (Syndrome, dir.)
Jay-Z & Kanye West f/ Frank Ocean & The-Dream "No Church In The Wild" (Romain Gervais, dir.)
Jonas Brothers "Pom Poms" (Marc Klasfeld, dir.)
Macklemore And Ryan Lewis f/ Wanz "Thrift Shop" (Jon Jon Augustavo; Ryan Lewis; Ben Haggerty, dir.)
Maroon 5 f/ Wiz Khalifa "Payphone" (Samuel Bayer, dir.)
Mumford & Sons "I Will Wait" (Fred & Nick, dir.)
One Direction "Kiss You" (Vaughan Arnell, dir.)
Swedish House Mafia "Don't You Worry Child " (Christian Larson, dir.)
The Lumineers "Stubborn Love " (Isaac Ravishankara, dir.)
International Video Of The Year By A Canadian
Avril Lavigne "Here's to Never Growing Up" (Anonymous, dir.)
Carly Rae Jepsen "This Kiss" (Justin Francis, dir.)
Justin Bieber f/ Big Sean "As Long As You Love Me" (Anthony Mandler, dir.)
Tegan And Sara "Closer" (Isaac Rentz, dir.)
Walk Off The Earth "Red Hands" (Ellis Bahl, dir.)
Your Fave Artist/Group
Carly Rae Jepsen
deadmau5
Drake
Justin Bieber
Marianas Trench
Your Fave Video
Billy Talent "Surprise Surprise" (Michael Maxxis, dir.)
Classified f/ David Myles "Inner Ninja" (RT! , dir.)
Drake "Started From The Bottom" (Director X, dir.)
Hedley "Kiss You Inside Out" (Lisa Mann, dir.)
Marianas Trench "Stutter" (Kyle Davison, dir.)
Your Fave International Artist or Group
Demi Lovato
One Direction
P!NK
PSY
Taylor Swift