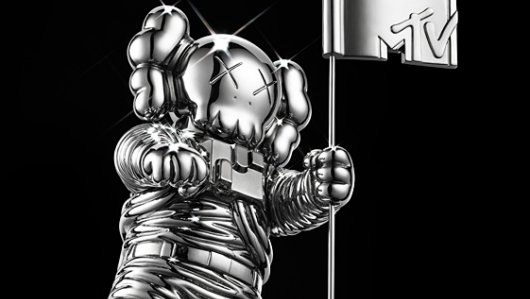 If you were a Cribs watcher —admit it, you were — then you know that some artists preferred to keep their VMA Moonmen in the bathroom, putting that flag to use as an extra toilet paper holder.
That will still be possible with the specially redesigned version for this year's show, but I have a feeling that winners will find a much more prominent place to display these limited editions KAWS Moonmen.
Brooklyn's own KAWS has redesigned the Moonman trophy, swapping the astronaut head for one of his signature character, Companion, as a one-time-only stunt to commemorate the VMA's first time being held in Brooklyn.
In an interview with MTV News, Kaws said, "It's such a strong, iconic thing. Everyone sees the Moonman and knows right off the bat what it is... When I was first invited to do the project, I knew that I didn't want to create something new entirely, I wanted [to do] something you see that's immediately KAWS and immediately Moonman; people just get it."
Two artists in particular who would probably love to nab these are Pharrell Williams — whose Miami home is filled with KAWS and other contemporary art works — and Kanye West, who picked KAWS to design the cover and other artwork associated with his 808s & Heartbreak album.
The 2013 MTV Video Music Awards will be broadcast live August 25 from Brooklyn...