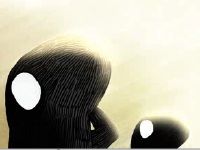 Mogwai
"Travel Is Dangerous"
(PIAS in the UK / Matador in the US)
Monkmus, director | Hana Shimizu, producer | Hornet, production co | James Buckley, DP/art director | Morgan Turner, editor | Description: Travel may be dangerous, but so is staying put, especially when your world is under attack and disappearing piece by piece. That's the predicament faced by a band of insect-like creatures in this animated video for Mogwai. -- watch "Travel is Dangerous"