Video Static is very pleased to present a commentary by director Monkmus about his Death Cab For Cutie video, "I Will Follow You Into The Dark." Produced for the band's ambitious Directions project — which called for the creation of  low budget, non-traditional videos for every song off of their album Plans.
Although Monkmus is well known for his distinctive cartoon animations — if you've seen those very funny Sony PSP ads with the talking squirrels and dustballs, then you've seen his work —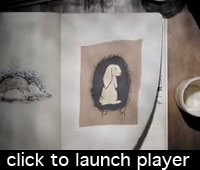 this video uses different techniques and mines some more personal terrain to match the confessional tone of this acoustic ballad.
Watch the Monkmus/Death Cab Commentary now in QuickTime (opens in new window)
Death Cab's Directions is now available on DVD and by download at iTunes. In addition to videos for all 11 songs from Plans,  it also includes two more videos and other bonus materials.
special thanks to Catherine Berclaz, Jill Kaplan, Aaron Stewart-Ahn and, of course, Monkmus