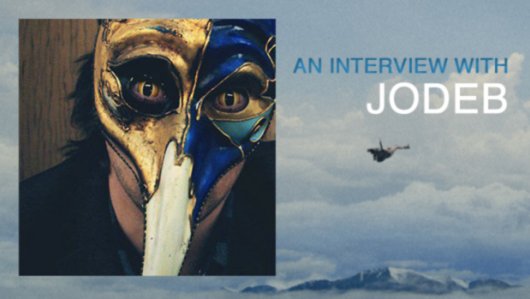 Jodeb is Jonathan Desbiens, a director and artist who has rocketed to the top of many music video shortlists thanks to a distinctive style that's proven to be a perfect match for EDM. It's a style that's based upon finding the harmony between two opposing forces — the exotic on-location shoots vs the weeks of VFX and animation — creating worlds grounded neither entirely in fantasy, nor reality.
And there are similarly perfect contradictions that define Jodeb — the world traveler who lives in a tiny town an hour outside Montreal, the EDM maestro with the trippy images who has never even smoked so much as a cigarette, the refined VFX wiz who is completely self-taught, and the list goes on.
We had the opportunity to chat recently and Jodeb was way more open that you might expect from somebody who prefers to be seen in a mask for his official photo.
VIDEO STATIC: The first music video of yours that broke through in the U.S. was for Rusko x Cypress Hill, but I know there were lots of Canadian videos before that. How did you get started making music videos?
Jodeb: When I was 18 I was studying french literature and making skateboard movies with friends. I applied to the Montreal Cinema University, but got turned down. I decided to buy a camera and started making music videos out of the blue. The first serious music video I ever did got on Heavy rotation at MuchMusic in Canada. It was for a band called Closedown who were friends from my hometown, and were as amazed as I was that it got nationwide attention. Feeling confident after this, I kept on making small music videos while was studying fine arts, which I decided to study at University when I got turned down for cinema.
Geoff McLean, who was working in Toronto and starting Vision, saw a video I did that got nominated at the Much Music Video Awards, reached out and asked if I wanted to make music videos with him. This was five years ago and at that time I was not really able to speak English. I'm way better now, but still working on it... which makes every shoot an interesting cultural shock for me.
I learned everything by myself on the VFX and technical side. I discovered all these softwares — After Effects, Premiere and Photoshop — when I was 12 and started to learn them for fun, like if it was a game. Without knowing it, I was learning by myself softwares that adult were trying to learn at school.
VS: There's all sorts of music video directors, in terms of style and intent, but two of the main categories directors often fall into are the extroverted adventurer, who films on-location in exotic locations, and the introverted artist, who does the main act of creating on a computer through editing and VFX. Your work combines both of those strains, which is pretty unusual.
Jodeb: I take that as a compliment. And I think I agree. I'm exploring landscapes and culture, but mixing it up with VFX.
I come from the back country, born and raised in a really small town with mountains and forests. I still live in a small village an hour outside Montreal. I've been close to nature all my life. And when I studied paintings, I discovered I was able to create worlds that were believable, but also my own. Totally fabricated worlds aren't interesting to me. I want something organic and real, even though I'm really into VFX.
I'm a big dreamer, and I try to blend reality — I want to explore the world, I love nature and people, and I'm really affected by environments around me — with my dreams. I want to match it with dreams from when I was young, things Iike monsters, fantastic worlds and love stories. And I really love exploring and taking risks. I hate being stuck in front of my computers for months, even though it's necessary.
The shoot we did for "Reload" was a two week shoot — one week in Iceland, and one week in Guatemala. We shot for nine days, which is a lot for a music video. So, I try to balance things. And the travel is sometimes a response to the post-production.
VS: You mentioned dreams, and many of your videos similarly structured and contain recurring images. There's a lot of bodies in flight, and teleportations from exotic locations to magical worlds. Do you sense that your work are variations on a theme, or is it all subconscious?
Jodeb: I do like to reuse some elements, because they're things that are either personal, or that I think are really effective to express myself through the music. That part is on-purpose. Another part is that recently I've gotten more attention from labels and artists who keep asking me for those things. I really try not to repeat myself, but people sometimes ask for similar stuff and it's not always possible to win all the battles if you want to make a living out of it. But I'm hoping to use very different topics for my next projects.
VS: Also in terms of inspiration, we were joking the other week that I thought the "Reload" video was inspired by Game Of Thrones, yet you never saw it. What are your inspirations?
Jodeb: I always read books while I work on my stuff. The way I work is really intense and I always have like 200 post-production shots to do for a video. I need books to make sure I can do those 15 hour days without losing the trail. It helps keep me focused. Reading calms me and entertains me, but it's also a huge inspiration. I'm reading classics now. Stuff like Dracula, and I'm just starting 1984. It's a big help in terms of narrative, since I never studied that. And video games. I know video games aren't viewed as an intelligent source, since they're always about guns and killing people. But, I think of video games like Myst. That was the first video game my parents would buy me, since they didn't want me playing violent games. I was maybe 11 or 12, so it was the same time I was discovering After Effects. After that was Riven, which was even bigger for me because it was so visually stunning. I think a lot of my inspiration still comes from Riven, in a subconscious way.
VS: Most of your work has been in the EDM genre. Was that a scene you were familiar with before starting in videos?
Jodeb: I don't listen much to EDM, it's very new to me. I really like Calvin Harris and Chase and Status. But to be really honest, I'm a rocker. I listen to hardcore and metal. Also some music like Massive Attack and Sigur Ros in response to the more aggressive music. But I haven't worked much on videos for the kind of music I mostly listen to. I let myself go with the flow.
VS: Maybe EDM turned out to be a good fit for you, since it's music that's based on The Drop — this climax that provides a structure that lets you teleport between those two worlds we discussed.
Jodeb: I never thought of that, I think you're totally right. In "Reload," that's literally a drop. It's also funny because EDM is connected to drugs, but I've never taken drugs in my entire life. Never. I've never even touched a cigarette. Nothing. I'm a big dreamer.
What I try to emulate with these videos is that everyone wants to get free. And drugs are there for that reason, but music provides that too. It allows your brain to be free: You get more creative and imaginative and relaxed. I'm doing this work as a director and traveling to also get free. I'm looking for freedom too. Right now I'm bored as hell waiting to hear back about new projects. I can't wait to go back and travel and shoot something. But, with these videos, I'm trying to allow people to travel and be free for a few minutes. It's a really simple premise, but very important to me. I know music videos aren't taken as valuable pieces of entertainment, but I really do make them to help people feel better.
That's my creative process. It's to offer people freedom.
JODEB, select videography