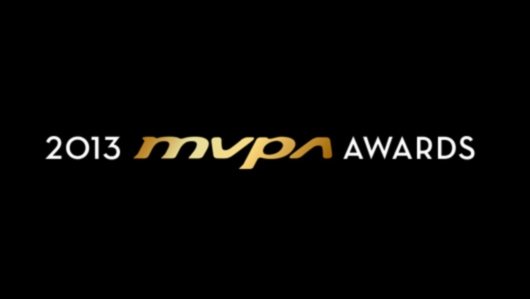 Congratulations to all the winners of this year's MVPA Music Video Production Association Awards...
Justin Timberlake "Suit And Tie" was the most recognized video, winning Best choreography, styling, cinematography, and Best Direction of a Male Artist for David Fincher . Multiple award winners also included directors Melina Matsoukas, Ian And Cooper, winners of the evening were Floria Sigismondi, who was recognized with the evening's top honor, Best Director.
DIRECTOR OF THE YEAR
BEST DIRECTORIAL DEBUT
BEST DIRECTION OF A BAND
BEST DIRECTION OF A FEMALE ARTIST
BEST DIRECTION OF A MALE ARTIST
BEST DIRECTION OF A NEW ARTIST
BEST VIDEO PRODUCED FOR UNDER $25,000
BEST ADULT CONTEMPORARY VIDEO
BEST ALTERNATIVE VIDEO
BEST ELECTRONIC VIDEO
BEST HIP HOP VIDEO
BEST POP VIDEO
BEST R&B VIDEO
BEST ROCK VIDEO
BEST INTERNATIONAL VIDEO
BEST ANIMATED VIDEO
BEST ART DIRECTION
BEST CHOREOGRAPHY
BEST CINEMATOGRAPHY
BEST COLORIST
BEST COMPUTER EFFECT (FX DONE IN COMPUTER)
BEST EDITING
NOTE: Jeff Selis and Jacquelyn London tied in this category, splitting the win.
BEST SPECIAL EFFECTS (FX DONE ON-SCENE OR IN-CAMERA)
BEST STYLING
BEST HAIR
BEST MAKE-UP
There were also two special awards:
Capitol Records video production executive Danny Lockwood was honored with the Doug Kratz Award for creative excellence.
And, on a personal note, I'd like to thank everyone at the MVPA and in the production community. I started in the music video business back in 1995, and it's a huge honor and surprise to be recognized with the Lifetime Achievement Award. Thanks for letting me stick around and help shine a light on great videos and the creative people who make them. Just as humbling as this award was all the people who came up to thank me for helping them over the years. So, thank you. Without your great work, I wouldn't have much to write about. Also, I hope this doesn't mean I'm old.