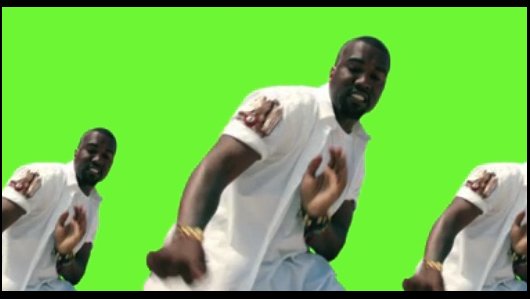 Kanye West is your 2015 recipient of MTV's Video Vanguard Award — a Lifetime Achievement that's been doled out to a fairly equal mix of directors and recording artists, from Godley & Creme, Wayne Isham and Hype Williams, to Beyonce, U2, LL Cool J and some band called The Beatles.
Deserving? C'mon.
Kanye West has been one of the most daring and unique visual artists in hip-hop since his debut video "Through The Wire" — a fearless bulletin board biographical clip that's still resonant today with it's journey from hope to tragedy and then triumph.
He's worked with a dizzying array of creatives: cartoonist Bill Plympton, artist Takashi Murakami, and who's who list of important video directors: Hype Williams, Chris Milk, Nabil, Michel Gondry, Director X, Romain Gavras, Coodie & Chike, Spike Jonze and on and on.
The award comes at an interesting point in time since Kanye seems to have been in an anti-video mode lately, with his most recent two being decidedly simple, yet still powerful clips in the fashion portrait "FourFiveSeconds" and the diaristic "Only One." Otherwise his videos have largely existed in even more ephemeral places, be it projected on a building or within the confines of a limited museum run.
Kanye has also graced the VMA stage many times, although never more infamously than his "Beyonce had the greatest video of all time!" moment — which is worth revising as a bizarrely misguided, yet magnanimous moment for an artist who often gets criticized for being self-centered. We might catch Kanye in a sharing mode and paying tribute to videos and the directors he collaborated with along the way when accepts the Vanguard on August 30, and pivot back to making bigger videos. Or, maybe he'll say nothing at all and never make another traditional video, which would also be a typically punk rock move from Yezus.
Just don't expect an explanation of "Bound 2" — that speaks for itself.